On 13 March a spokesman for Al Qaeda claimed responsibility in a videotaped statement for a wave of bomb attacks in Madrid that killed 200 people, overshadowing Spain's general elections in mid-March.
Hours earlier, Interior Minister Angel Acebes announced that five people, including some with possible links to Moroccan militants and Al Qaeda, had been arrested in the first breakthrough in the investigation of Thursday's near-simultaneous attacks on four commuter trains which also injured 1,500 people.
Spanish television's first reports credited the Basque ETA with the acts but they quickly aired Al Qaeda's hastily produced videotape (of a person who spoke with a Moroccan accent in Arabic humbly saying he in fact represented yet another person who was the representative of Al Qaeda who we can assume was unavailable to make such a hasty recording), which corrected the record and took credit away from the Basques and gave it to Al Qaeda. So it was true, as Al Qaeda had complained, credit goes to Al Qaeda.
Under outgoing Prime Minister Jose Maria Aznar, Spain has been a close ally of the United States, firmly supporting U.S. policy on Iraq and sending 1,300 troops there after the war.
On a video tape provided to Spanish TV via a drop-off trash bin, a man speaking in Moroccan-accented Arabic says Al Qaeda launched the attacks in retaliation for Spanish cooperation with the United States and its allies.
"If you don't stop your injustices, more blood will flow," went the Al Qaeda pronouncement, "and these attacks are very little compared with what may happen with what you call terrorism, the Al Qaeda spokesperson said", according to a Spanish transcript provided by the Interior Ministry.
The statement referred specifically to Iraq and Afghanistan, both countries where Spain has sent troops to keep the peace in the fight against terror. The man noted that the Madrid blasts came exactly two-and-a-half years after the September 11 attacks conducted by some nineteen or more Al Qaeda operatives against the United States.
He makes the statement in the name of someone claiming to be the military spokesman of Al Qaeda in Europe, Abu Dujan al Afgani, Minister Acebes told a news conference.
Interior Minister Acebes said the name was not known to intelligence services and that investigators were examining the tape's authenticity.  The Interior Ministry did not release the video itself. Acebes said the man speaking on it wore Arab dress and had his face uncovered. At an earlier news conference Acebes said investigators had found no evidence of suicide bombers.
Spanish Election Ends U.S./Spain Special Friendship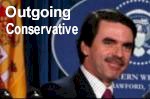 Outgoing incumbent Jose Maria Aznar's party had suddenly plummeted 11 percentage points in the polls almost overnight when Al Qaeda attacked Madrid punishing Spaniards for sending troops to Afghanistan and Iraq. (See Comment).
Planning to step down from his party leadership after eight years at the helm, Aznar had anointed Mariano Rajoy as his replacement in the top job should his party win the election.
Aznar, a strong ally to the U.S. in its fight against Al Qaeda, last year told press about the coalition in Iraq: "We've worked very hard, and with good results, to forge consensus within the European Union that it is necessary to maintain. We share the efforts and the needs within the Security Council that the international community has to maintain to guarantee peace and security in the world."
Aznar, during his time in office, had devoted his efforts to making good on promises that first put him in Spain's top slot: balance the budget, root out corruption and crack down on Basque terrorism
The Socialist party's Jose Luis [ Rodriguez ] Zapatero is  to be Spain's new prime minister, ending eight years of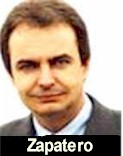 conservative rule. "My immediate priority will be to fight all forms of terrorism," he said in a victory speech on the night of March 14. The Socialists won 42 per cent of the vote while the center-right Popular Party garnered 38 percent, according to official results.
Zapatero, who declared during his campaign that he hoped Sen. John Kerry would win the U.S. presidency, recently repeated his preference. "We're aligning ourselves with Kerry," Mr. Zapatero said, according to the International Herald Tribune. "Our allegiance will be for peace, against war, no more deaths for oil, and for a dialogue between the government of Spain and the new Kerry administration." In a radio interview yesterday, Mr. Zapatero, whose victory was propelled in part by the terrorist attacks in Madrid, emphatically asserted that "fighting terrorism with bombs ... with Tomahawk missiles isn't the way to defeat terrorism."
Born in the city of Valladolid on August 4, 1960, Rodriguez Zapatero studied Law, but - aside from a stint as a law teacher - has devoted his entire life to politics within the Spanish socialist party. From a family with left-wing ideas --his grandfather was executed by the Nationalists at the start of the Spanish Civil War in 1936-- he first became fascinated with politics when he attended his first political rally in Gijón (Asturias) in 1977, when Spain was about to hold its first democratic elections following the death of dictator Franco. The speaker was a young Felipe González, and Rodriguez Zapatero was mesmerized. The following year, he joined the socialist party.
In 1982, he headed the socialist youth organization in his home province of León (north-western Spain). In 1986, he became the youngest member of parliament in Spain when he won a seat representing the province. In 1988 he was elected to head the regional chapter of the socialist party in León, and in 1997 he was appointed to the Federal Executive Committee, the party's governing body.
Ideologically, Rodríguez Zapatero is a moderate, closer to social democracy than socialism. His right-hand-man is the Galician member of parliament, José Blanco. Rodriguez Zapatero married in 1990. He has two daughters. His hobbies are jogging and trout fishing.
Spain is a country of South Europe and member of the European Union. The national capital of Spain is Madrid. The main religion is Christianity (Catholicism). The national language is Spanish (historically, Castilian). Other official languages in the autonomous communities comprise Catalan and Basque. Spain has a lot of linguistic minorities. In the Basque provinces an active separatist movement is present. In the year 1037 the Castilian became an independent state, it merged with Aragon in the year 1479 to become Spain. The country is a federal parliamentary democratic monarchy. Inside the federation the communities of Basque and Catalonia have a far going autonomy. The Basque provinces has a strong and violent independence movement. Spain also includes the overseas communities of the Canary Islands and the Baleares and the overseas exclaves of Ceuta and Melilla.
Executive:
King: Juan Carlos I de Borbón y Borbón (1975)
President of the Government: José María Aznar (1996/2000) PP
Parliament of Spain
Las Cortes Generales (The General Courts) have two chambers. The Congreso de los Diputados (Congress of Deputies) has 350 members, elected for a four year term by proportional representation in each province. The Senado (Senate) has 248 leden, 208 members elected for a four year term in four-member constituencies and 40 members designated by the regional legislatures.
Spanish Election Summary:
Winner - Socialists (PSOE) led by Jose Luis Rodriguez Zapatero: 43 per cent 
Outgoing Incumbent -  Popular Party (PP) led by Jose Maria Aznar: 38 per cent
Catalan Regional Party (CiU): 3 per cent
Republican Left of Catalonia (ERC): 2.5 per cent
United Left (IU): 5 per cent
Voter Turnout: 77.2 per cent
Who but a Kook would want to trade shoes with U.S. President?
If, as the U.S. Democratic Party suggests, the sitting President is to blame whenever Al Qaeda attacks (on September 11, 2001 3,000 civilians were murdered by Al Qaeda), who in their right mind would want to disrupt the continuity of leadership by stealing away the job of President now?
If not sooner, then certainly by the time of the next U.S. presidential term, at least some of Al Qaeda's far-flung units will have perfected the delivery means and formed an execution plan. ("We have the right to kill four million Americans two million of them children and to exile twice as many and wound and cripple hundreds of thousands. Furthermore, it is our right to fight them with chemical and biological weapons..."Al Qaeda's, Sulaiman Abu Ghaith, 2002)
Al Qaeda has always boldly overstated its abilities knowing that eventually by growing popularity among Islamic fundamentalists it would amass sufficient momentum to achieve those exaggerated claims. It's just a matter of time and as many predict toward the end or into the next U.S. presidential term.

March Summaries: Coalition Losses in Iraq To Date
| | | | | |
| --- | --- | --- | --- | --- |
| Period | U.S. | UK | Other | Total |
| March-2004 | 52 | 0 | 0 | 52 |
| February-2004 | 20 | 1 | 2 | 23 |
| January-2004 | 47 | 5 | 0 | 52 |
| December-2003 | 40 | 0 | 8 | 48 |
| November-2003 | 82 | 1 | 27 | 110 |
| October-2003 | 42 | 1 | 2 | 45 |
| September-2003 | 31 | 1 | 1 | 33 |
| August-2003 | 35 | 6 | 2 | 43 |
| July-2003 | 47 | 1 | 0 | 48 |
| June-2003 | 30 | 6 | 0 | 36 |
| May-2003 | 37 | 4 | 0 | 41 |
| April-2003 | 73 | 6 | 0 | 79 |
| March-2003 | 65 | 27 | 0 | 92 |