---
Comment
My family and I would like the world to know that President Ronald Reagan has passed away after ten years of Alzheimer's, at 93 years of age. We appreciate everyone's prayers over the years." -- Nancy Reagan, June 5, 2004
Remembering A Great Man Among Few
I think many more than would care to admit will shed tears by week's end.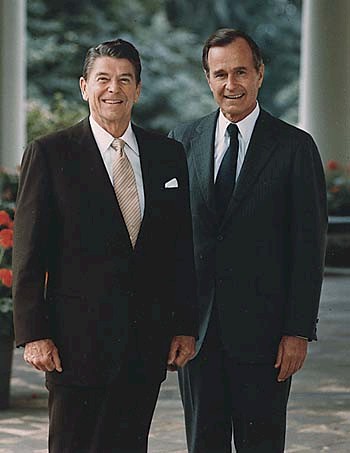 Ronald Reagan, a two-term U.S. president in the 1980s, slipped away on the eve of the 60th anniversary of the D-Day invasion of Normandy.
Current U.S. President George Bush, son of Reagan's devoted and loyal Vice President, was addressing the world from a podium near Omaha Beach, Normandy only a few hours after Mr. Reagan's death. Bush's speech --one of the very best ever delivered from that reverent burial place-- gave the sad news to many.
It is my gut feeling that we witness the passing of the world's greatest leader.
I think of many great U.S. Presidents going back to George Washington. He and President Roosevelt faced daunting tasks in their presidencies but not quite so daunting as total world destruction brought on by the Cold War. Some might argue that death would be better than global Nazi domination. Thank God, thank the courageous Winston Churchill and Franklin Roosevelt, we'll never know.
I also think of David Ben Gurion whose extraordinary bravery and vision provided unparalleled leadership to the world's Jews and Israelis in the aftermath of World War II.
But Ronald Reagan put an end to the "duck and cover" terror that frightened every living person born after WWII. For me, a teen in the 60's who remembers the Eleven Steps To Survival booklets, practise nuclear attack school drills, fallout shelters, air raid drills and blast shelters, Reagan has done the most.
This criteria alone is insufficient to make such a grandiose claim for Mr. Reagan's legacy.
Ronald Reagan was also a good man with clarity of vision, tenacity and unwavering values. Moreover he was an extraordinary leader who bore no malice towards his opponents. The nearing eight billion people of this planet hunger for this kind of leadership.
We of The Wednesday Report remember Mr. Reagan well. Having met him a few times and having received the occasional note from his office attached to a photocopy of a TWR article of note, we felt we knew him.
Actually, we loved this man.
It has often been said that the best and the brightest draw their own kind to themselves.
I remember Francois Mitterand of France; Maggie Thatcher of Great Britain, Canada's Brian Mulroney, The Soviet Union's Mikhail Gorbachev, Germany's Helmut Kohl and Ronald Reagan as being history's most remarkable simultaneous occurrence of greatness, Reagan at the centre.
The times were tumultuous. The results were amazing -- a world at last free of the nuclear Armageddon threat.
It is hard to say how America's left-wing media elite will spin Reagan remembrance events in the U.S. through to the end of this week as the great America tears up over a beloved son. The people of America will feel the loss of a President who was like a loving father to every constituent of his time in office.
Reagan's philosophies were so successful, his leadership so strong, giving such eternal strength to his Republican Party, that he bestowed a lasting strength and respectability to a Reagan branded, revisionist-Republican doctrine.
Ronald Reagan reconstituted the Republican Party as the natural governing political entity of the U.S. That reality has been harsh for many Democrats, nearly apoplectic ever since. Their behaviour in recent past has included some of the most surprising "crash and burn" tactics of desperation ever witnessed in world-stage politics, not the least of which was Senator Kerry's self-declared Defacto alignment to al Quaeda in the Madrid bombing crisis. Politicians like Reagan who never prostituted values in pursuit of a voter's ballot, are perhaps a rare breed.
Reagan's term was followed by a moderate Republican, the current President's father, George Herbert Walker Bush, whose aim was "a kinder and gentler nation". This soft spoken man, a decorated WWII hero, will be best remembered as the only U.S. Vice-President to deliver unequivocal, undying loyalty to his President. An extraordinary thing, George Bush senior as a moderate Republican President, failed to achieve re-election for a second term.
In the midst of a post-1991 Gulf War economic slump, from the extreme right wing came a right-wing zealot and fiscal conservative, Ross Perot, with right-leaning followers convinced the 41st President was far too moderate, despite Bush's victorious war against the Kuwait-invading Saddam Hussein's Iraq.
The 1992 clash between moderate and extreme conservatives split the vote and allowed a Democrat, the charismatic Bill Clinton, into office at a time when all the U.S. President had to do was spend the peace dividend left by Reagan and Bush in the twelve preceding years.
Clinton, holding true to left-wing doctrine, cut to dangerous low levels U.S. Armed Forces and counter-intelligence strengths by millions of people and nearly a trillion dollars.
Clinton's time was but a hiccup in the natural ruling legacy Reagan left to the Republicans.
The world is again in grave danger, this time from non-state, religiously fanatical entities. We again need Ronald Reagan's strengths.
Today, the young George Bush, 43rd U.S. President, with genes of the greatest American Vice-President, having the greatest American President as a doctrinal mentor, challenges the new terror threat to global stability.
If there is to be hope for peace and freedom on planet earth, it lies in the glimmer of likeness to Ronald Reagan's clarity of vision, tenacity and unwavering values we see in President Bush.
Ronald Reagan's great legacy continues as the only safe way ahead.
Micheal O'Brien, Editor
George Bush's Announcement and Proclamation
It is my sad duty to announce officially the death of Ronald Reagan, the fortieth President of the United States, on June 5, 2004.

We are blessed to live in a Nation, and a world, that have been shaped by the will, the leadership, and the vision of Ronald Reagan.

With an unshakable faith in the values of our country and the character of our people, Ronald Reagan renewed America's confidence and restored our Nation. His optimism, strength, and humility epitomized the American spirit. He always told us that for America the best was yet to come.

Ronald Reagan believed that God takes the side of justice and that America has a special calling to oppose tyranny and defend freedom. Through his courage and determination, he enhanced America's security and advanced the spread of peace, liberty, and democracy to millions of people who had lived in darkness and oppression. As America's President, Ronald Reagan helped change the world.

President Reagan has left us, but he has left us stronger and better. We take comfort in the knowledge that he has left us for a better place, the shining city that awaits him.

NOW, THEREFORE, I, GEORGE W. BUSH, President of the United States of America, by the authority vested in me by the Constitution and laws of the United States, in honor and tribute to the memory of Ronald Reagan, and as an expression of public sorrow, do hereby direct that the flag of the United States be displayed at half-staff at the White House and on all buildings, grounds, and Naval vessels of the United States for a period of 30 days from the day of his death. I also direct that for the same length of time, the representatives of the United States in foreign countries shall make similar arrange-ments for the display of the flag at half-staff over their Embassies, Legations, and other facilities abroad, including all military facilities and stations.

I hereby order that suitable honors be rendered by units of the Armed Forces under orders of the Secretary of Defense.

I do further appoint Friday, June 11, 2004, as a National Day of Mourning throughout the United States. I call on the American people to assemble on that day in their respective places of worship, there to pay homage to the memory of President Reagan. I invite the people of the world who share our grief to join us in this solemn observance.

IN WITNESS WHEREOF, I have hereunto set my hand this sixth day of June, in the year of our Lord two thousand four, and of the Independence of the United States of America the two hundred and twenty-eighth.

GEORGE W. BUSH, President of the United States of America
Reagan's Trip to Washington is First Ride Aboard Aircraft He Ordered
The blue-and-white presidential jet that brings the flag-draped coffin of former President Ronald Reagan to Andrews Air Force Base, Md., today is an aircraft President Reagan ordered before he left office -- but this was his first ride in it.
Reagan ordered two identical Boeing 747s to replace the aging presidential Boeing 707s he traveled in as president. First lady Nancy Reagan designed the interior decor of the planes in a style reminiscent of the desert Southwest.
One plane was delivered shortly after Reagan left office. President George H.W. Bush, in September 1990, was the first leader to fly in one of the new planes.
The presidential air transport fleet consists of two specially configured Boeing 747-200Bs with the Air Force designation VC-25. The radio call sign "Air Force One" is used when the president is aboard either aircraft, or any other Air Force aircraft.
Special features of the aircraft include state-of-the-art navigation, electronic and communications equipment, special interior configuration and furnishing, a self-contained baggage loader, front and aft air-stairs and the capability for in-flight refuelling.
The uniquely configured aircraft come with an executive suite consisting of a stateroom outfitted with a dressing room, lavatory and shower and the president's office. A combination conference/dining room is available for the president and his family and staff. Separate accommodations are provided for guests, senior staff, Secret Service and security personnel and the news media.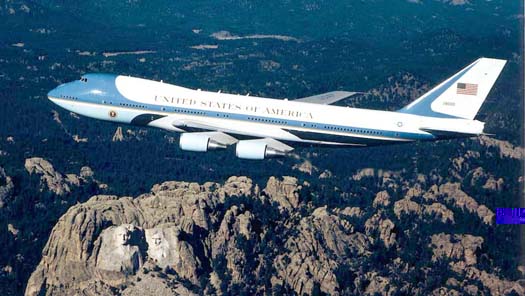 There are two galleys where up to 100 meals can be served at one sitting. And there's a rest area and mini-galley for the aircrew.
Comfort areas include six passenger lavatories, including access facilities for people with disabilities. The VC-25 also has a compartment outfitted with medical equipment and supplies for minor medical emergencies.
Franklin D. Roosevelt was the first U.S. president to be provided air transport, which began in 1944 when a C-54 Sky master -- the "Sacred Cow" -- was put into service, according to officials at the Air Mobility Command's 89th Airlift Wing at Andrews.
From 1947 to 1953, President Harry S. Truman was transported in a DC-6 "Independence' (Lift master). President Dwight D. Eisenhower traveled aboard the "Columbine II" and "Columbine III" from 1953 to 1961.
President John F. Kennedy's VC-137, a modified Boeing 707, was the first aircraft to be popularly known as "Air Force One."
Perhaps the most widely known and most historically significant presidential aircraft is the C-137C that was specifically purchased for use as the presidential aircraft in 1962. With Tail No. 2600, the aircraft carried Kennedy to Dallas on Nov. 22, 1963, and returned his body to Washington following his assassination.
Lyndon B. Johnson was sworn into office as the 36th president on board the aircraft at Love Field in Dallas. Officials said this fateful aircraft also was used to return Johnson's body to Texas following his state funeral on Jan. 24, 1973.
In 1972, President Richard M. Nixon made historic visits aboard 2600 to China and the Soviet Union.
Tail No. 2600 was retired in May 1998 and is on display at the U.S. Air Force Museum at Wright-Patterson Air Force Base, Ohio.
The first VC-25-A -- Tail No. 2800 -- flew as "Air Force One" on Sept. 6, 1990, when it transported President George H.W. Bush to Kansas, Florida and back to Washington.
A second VC-25-A -- Tail No. 2900 -- transported Presidents Clinton, Carter and Bush to Israel for the funeral of Prime Minister Yitzhak Rabin, Nov. 6, 1995.
On Feb. 6, 2004, the dedication and unveiling ceremony was held for a cornerstone for the building that will house Reagan's presidential aircraft at the Ronald Reagan Presidential Library and Museum in Simi Valley, California.
The new Air Force One Pavilion will display the Boeing 707 used by Reagan while in office. Boeing Co. is restoring it. This plane, with Tail No. 2700, flew in presidential service for 28 years. The pavilion is scheduled for completion in 2005. The cornerstone was dedicated Feb. 6, 2004, to honour Reagan on his 93rd birthday.
Powered flight was only 7 years old when Reagan was born. And on June 11, an aircraft he determined the nation needed will take him back to California for his final rest.
State Funeral Services for President Reagan Continue in Washington
When Justin Rogers and Travis Sullivan were born, Ronald Reagan was president of the United States.
This evening of June 9, these two young men, now both Army specialists in the prestigious ceremonial unit, "The Old Guard," are members of the team assigned the task of carrying President Reagan's casket up the steps and into the U.S. Capitol.
"I was kind of young (when Reagan was president), but all of my family members told me what a great job he did for our country," Rogers said in an interview at Fort Myer, Va., just moments before their unit, Company E, 3rd U.S. Infantry, departed for downtown to perform their solemn duties. "It's quite an honour."
Sullivan called it "a heck of an honour" to be participating in Reagan's funeral. "He's definitely one of the best presidents we've had in the history of the nation."
Both soldiers were out of town visiting family when they got "the call." But neither needed to wait for the Army to tell them; as soon as they heard Reagan had died, both knew they would be called to duty.
Rogers was visiting his parents in New Jersey June 5 when he heard Reagan had died. When the phone rang an hour and a half later, "I told my parents, 'That's the Army calling right there. I've got to go back,'" he said.
Sullivan had returned to Wisconsin to see his younger sister graduate from high school. He was working the fields on his parents' dairy farm when the Army reached him.
Sullivan originally was scheduled to be part of the team that flew to California to carry Reagan's casket during official honours there. But he couldn't get a flight out of Wisconsin soon enough to depart for California, and ended up on the Washington-based team instead.
Both men said their parents were extremely proud to have their sons participate in honouring a deceased president.
"My mom was ecstatic," Rogers said. "She started crying right there."
Sullivan said his parents thought the honour was "the greatest thing since sliced bread."
The ceremonial movement of Reagan's remains consists of several steps. A hearse, surrounded by a motorcade, carried the casket from Andrews Air Force Base, Md., to the Ellipse in front of the White House. There, an honour guard transferred the casket to a horse-drawn caisson for the trip up Constitution Avenue to the U.S. Capitol. Sullivan was part of this honour guard.
The eight-man team -- two soldiers, two sailors, two Marines, an airman and a Coast Guardsman -- march with the caisson, then carry the casket up the first set of steps of the Capitol.
That is where the logistics got tricky. Because the Capitol has so many steps - reportedly 99 - and the casket weighs about 720 pounds, a second team will take over during the casket's journey up the steps. Rogers is a member of this second team.
At the top of the steps, the first team took over again and carried the casket into the Rotunda for the fallen president to lie in state.
The process will be performed in reverse June 11 when Reagan's body is moved to Washington's National Cathedral for a state funeral.
The joint-service nature of this event creates an extra challenge for the team members. Each service has its own procedures for funerals and other ceremonial functions. Pretty much every waking hour between June 6 and June 9's event were spent practicing, the team members said.
The troops even practiced going up and down the Capitol steps with a 700-pound casket, with the rehearsals generally lasting late into the night. On June 7 they were at the Capitol steps until midnight. The next night, the practice lasted until 2 a.m.
Both soldiers said this funeral is the largest in scope they've ever participated in, and both were mindful of the worldwide television coverage they'd be part of.
Rogers noted his mother would be watching her television with baited breath. "Trust me," he said with a chuckle, "she's called everyone up she works with, my grandparents, everybody."
Sullivan said the key to containing his nerves is to take it one step at a time. "One day at a time, one rehearsal at a time," he said. "Hopefully today goes off well so we can honour (Reagan) the way he should be honoured.
Rogers' and Sullivan's day-to-day job is to be part of the ceremonial detail that performs funerals for veterans in Arlington National Cemetery. "Technically this is like everything we do every day," he said. "But this is in front of God and country; it's a lot bigger scale."
Despite the scope of the event and the late president's prominence, the soldiers said Reagan would receive the same amount of respect they pay to every veteran whose funeral they perform in Arlington National Cemetery.
"As far as the amount of respect we pay, it's just the same as everyone else," Sullivan said. "(Fallen service members are) all worthy of the same respect. That's what we preach to each other; that's what we strive to do."
Rogers said he feels a connection with every veteran whose funeral he participates in. "I feel like they're my brothers," he said. "They're my brothers in arms. It's a great honour doing funerals, no matter whose funeral it is.
"They served their country," he continued. "And in the end, I'm putting them back in the ground, showing them that respect. It's the last thing that the family sees."
Iraqi Prime Minister, Ayad Allawi Sounds Off
Those seeking to damage or destroy the country's petroleum, water and electrical infrastructure are betraying Iraq, the country's prime minister declared earlier this week.
Terrorist attacks on Iraq's infrastructure, Prime Minister Ayad Allawi said in Baghdad, have caused "hundreds of millions of dollars in damage and lost revenues" during the past several months.
For example, sabotage targeting the country's electrical infrastructure, Allawi pointed out, has "caused a nationwide loss of power of more than four hours per day."
The saboteurs are not patriots, he said. Rather, they are "terrorists and foreign fighters opposed to our very survival as a free state."
Anyone who commits acts of sabotage, the prime minister said, "is nothing more than a traitor to the cause of Iraq's freedom and the freedom of the people."
Iraq's oil industry, he reported, has been the target of 130 attacks over the past seven months.
"More than $200 million has been stolen out of the pockets of a sovereign Iraqi government," Allawi said, "through the loss of oil revenues resulting from attacks on pipelines."
Attacks on oil infrastructure have caused environmental damage, Allawi said. Some drinking-water supplies have been polluted because of leaking oil from sabotaged pipelines, he added.
"Every dollar made from the sale of Iraq's oil goes towards rebuilding our country," Allawi explained. Saboteurs "cause harm on our good people."
Allawi exhorted "Iraqi patriots" to be vigilant against saboteurs. "It is our people that are sitting in the dark because of these cowardly and traitorous attacks," the prime minister said. Soon, he noted, Iraq will be a sovereign nation.
"We owe it to future generations," Allawi said, "to leave this land better, stronger and more independent than before. Working together to defeat those saboteurs, we can accomplish this goal in a sovereign Iraq."
At the G8 summit at Sea Island, Ga., Iraqi President Ghazi al-Yawar told President Bush on June 9 of the Iraqi people's commitment to move toward democracy.
"We're determined to have free, democratic, federal Iraq," Yawar told the president at a news conference.
Iraq, Yawar said, is "a country that is a source of stability to the Middle East, which is very important for the rest of the world."
The Iraqi president also expressed his gratitude for the sacrifices made by United States and coalition forces during the liberation of Iraq.
"We are working with all our hearts to make sure that all these sacrifices of the Iraqis, as well as our friends in the coalition," haven't been made in vain, Yawar concluded.
Strategic Global defence Posture Review Under Way in Washington
Capabilities, not numbers, are the focus of discussions between the United States and its allies worldwide as part of the global posture review, U.S. government officials said at the Pentagon today.
Representatives from the Defense Department, the State Department and the National Security Council spoke on background about the ongoing discussions.
The officials went to great lengths to correct the impression that the discussions are solely about the number of personnel in a given country, or about bases. The officials said it is a much bigger enterprise than that.
U.S. officials have been talking to nations around the world. For example, Richard Lawless, deputy defense undersecretary for Asian and Pacific affairs, announced a concept proposal June 6 that would allow the United States to redeploy 12,500 troops from South Korea. There are currently 37,000 U.S. personnel on the Korean peninsula, including 3,600 2nd Infantry Division troops set for deployment to Iraq.
Officials stressed that all details of the proposal are being worked out with Korean officials.
Key in the proposal is the idea of capabilities. The United States would maintain capabilities equal to or greater than those in the country today. The United States is investing $11 billion to beef up capabilities in South Korea. Officials said the proposal also incorporates redeploying troops from their current positions -- now often encroaching South Korean cities -- farther back.
Officials said the move considers the first concepts the United States considers as it approaches the global positioning plan: strengthening allies and building new partnerships. The United States considers the military capabilities of allies as it examines its own position. U.S. and allied forces are transforming, and American officials will work with allies to enhance national capabilities or build new ones, officials said.
The United States also needs to handle uncertainty, they added. The old concept epitomized in the Cold War by the annual Return of Forces to Germany exercises no longer applies. Under that concept, units in the United States would marry up with equipment stored near fighting points on the East/West German border.
That was a good concept when the enemy was the Soviet Union threatening the Fulda Gap, officials said, but it is no longer the case. "Our ability at prediction is quite weak," said a DoD official. "What we really need to do is build the relationships, have the flexibility to deal with the kind of challenges we're going to face."
The United States is not just looking at one country, but over a whole region and among regions. It's not just what the United States has in Korea, but what is in Northeast Asia, that is relevant.
Speed will be crucial. U.S. troops and their equipment must deploy to a trouble spot quickly. Defense officials in the past have said a small number of troops in a hot spot quickly can often head off a problem before it escalates.
But it all comes down to capabilities. Officials said almost all the countries they have spoken with have bought into this concept. The capabilities the United States brings is the important idea, not the simple number of troops. "If we begin these discussions with numbers, we're almost sure to get this wrong," a DoD official said. "Our discussions have been 'What are the appropriate capabilities? What are the relevant capabilities for dealing with the challenges we confront?'"
The United States will continue discussions with no deadline, officials said. Some of the decisions will, of course, depend on the outcome of the base realignment and closure process, they added. The discussions with allies and friendly nations will become more concrete as the process continues, officials said.
AIAC Speaks Out Against Conservative Proposals
Competitive corporate tax rates and programs like Technology Partnerships Canada and Export Development Canada are all part of the business environment necessary to sustain a strong and vibrant Canadian aerospace industry. "I wish it were that simple", says Peter Boag, President and CEO of the Aerospace Industries Association of Canada, in response to Conservative Party leader Stephen Harper's remarks earlier this week that he would lower corporate tax rates by ending 'business subsidies'.
"Mr. Harper's position fails to take into account the risks and opportunities faced by Canadian-based aerospace firms in a fast-changing global market, and the role an effective industry-government partnership plays in mitigating those risks and enabling Canadian firms to seize opportunities in the global market", adds Boag.
Canadian-based aerospace firms operate in a market that is truly global, intensely competitive and increasingly political. This drives a level of government intervention rarely seen in other industrial sectors. Around the world, in countries and markets as diverse as the United States, Europe, Asia and South America, governments are competing fiercely and making sizeable investments to position their respective industries as magnets for additional investment and jobs in a world where trade now follows investment.
Over the years, successive federal governments have participated in a successful industry-government partnership that made aerospace a remarkable Canadian industrial success story, despite a relatively small domestic market (both commercial and military).
Key elements of the current partnership are risk-sharing investments through Technology Partnerships Canada (TPC) and the sales financing support provided by Export Development Canada (EDC).
"Neither of these programs constitute 'corporate welfare'", says Boag. TPC provides risk-sharing, repayable investment capital that levers substantial private sector investment in research and development and the commercialization of Canadian ideas in Canada. EDC provides vital trade financing capacity (at a profit to the Crown) that facilitates sales in export markets.
The global nature of the aerospace industry carries with it an unprecedented degree of mobility. "There is constant pressure on Canadian-based firms and operations (whether foreign or Canadian-owned) to seek the best business case when making investment location decisions for new technologies, products and processes", adds Boag. Competitive corporate tax rates, TPC and EDC are key elements of the business case that sustain a strong and vibrant aerospace industry in Canada.
Aerospace is one of Canada's leading advanced technology industries. Eighty thousand skilled Canadians are involved in the supply of sophisticated aerospace products and services that together generate annual revenues exceeding $20 billion. It's a pan-Canadian strength, with a significant presence and economic impact in communities across Canada. Eighty per cent of the industry's products and services are exported, making aerospace not only a key source of good jobs, but a major source of the foreign exchange that underpins Canada's high quality of life.
Most Canadians associate the aerospace industry with Quebec, home of Bombardier, the world's third largest aircraft manufacturer, as well as other global leaders like CAE, Bell Helicopter and Pratt and Whitney Canada. Few realize that, in relative terms, the industry is just as important to the economy of Manitoba, and plays a major role in the economies of Alberta, British Columbia, Nova Scotia, Ontario and Prince Edward Island.
The Aerospace Industries Association of Canada is the national trade association of Canada's aerospace manufacturing and service sector. It represents the interests of 400 companies, in all regions of the country.
---