DIPLOMACY FAILS: JANUARY 16, 1991
"The liberation of Kuwait has begun. In conjunction with the forces of our coalition partners, the United States has moved under the code name Operation Desert Storm to enforce the mandates of the United Nations Security Council. At 7 o'clock p.m. Operation Desert Storm forces were engaging targets in Iraq and Kuwait."
— Marlin Fitzwater, White House press secretary
At 3:00am Baghdad time last Wednesday nearly twenty-four hours past the deadline for Saddam to pull his troops from Kuwait, Saudi, Kuwaiti, British and American aircraft began a surgical bombing attack against Iraqi and Kuwaiti targets including Baghdad. In that hour it became stunningly clear to the world that diplomacy had failed. Since that hour, air attacks against Iraqi military assets in Iraq and Kuwait have been unrelenting, day and night. Since that hour, Saddam Hussein has shown that he relishes war and had no intention, as he has declared repeatedly, of leaving Kuwait, respecting the rights of the Kuwaiti people and the rightful demands of the United Nations.
Saddam has hunkered down in deep bunkers within Iraq. The coalition against Saddam failed to flush out his air force and despite initial optimism did not rid the Mideast of the Iraqi missile threat.
Deep bunkers, hardened aircraft shelters, "cardboard" Scud decoys, foul weather and chaotic antiaircraft artillery have baffled U.N. forces. Why did Saddam not unleash his military might? Where has he stashed it? When will he use it?
Saddam has promised that the worst has yet to come. As predicted, he holds out hope for a victorious land battle using his loyal, combat-hardened forces against western troops whom he believes do not have the stomach for a prolonged land-force engagement.
Meanwhile, Saddam has stoicly carried out each of his threats to shock the western world. But he has launched conventionally tipped al-Hussein missiles at Israel without the effect he sought. Israel's leaders showed strength in restraint. Can that continue against what comes next?
Some observers warn, "It may take great fortitude to deal with future developments."
UNITED NATIONS SECURITY COUNCIL RESOLUTION 678:
"Recalling and reaffirming its resolutions 660, 661, 662, 664, 665, 666, 667, 669, 670, 674 and 667,
"Noting that, despite all efforts by the United Nations, Iraq refuses to comply with its obligation to implement Resolution 660 and the above subsequent relevant resolutions, in flagrant contempt of the Council,
"Mindful of its duties and responsibilities under the Charter of the United Nations for the maintenance and preservation of international peace and security, determined to secure full compliance with its decisions, acting under Chapter VII of the Charter of the United Nations,
"1. Demands that Iraq comply fully with Resolution 660 and all subsequent relevant resolutions and decides, while maintaining all its decisions, to allow Iraq one final opportunity, as a pause of goodwill, to do so;
"2. Authorizes member states cooperating with the government of Kuwait, unless Iraq on or before 15 January 1991 fully implements, as set forth in paragraph 1 above, the foregoing resolutions, to use all necessary means to uphold and implement Security Council Resolution 660 and all subsequent relevant resolutions and to restore international peace and security in the area;
"3. Requests all states to provide appropriate support for the actions undertaken in pursuance of paragraph 2 of this resolution;
"4. Requests the states concerned to keep the Council regularly informed on the progress of actions undertaken pursuant to paragraphs 2 and 3 of this resolution;
"5. Decides to remain seized of the matter."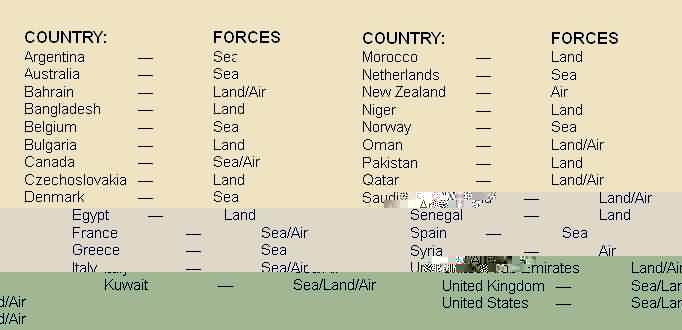 CANADIANS COMPRISE COALITION COMMAND STRUCTURE
As concerned Canadians repeatedly question officials about who commands CF personnel in the Gulf region, some CF personnel are in fact performing command functions over entire operations of the coalition forces in the Middle East. From Germany, Canadian operations officers came to Saudi Arabia last year to help staff the operations rooms of the allied air command centre. In the